How do we achieve great prints on our custom screen print orders? Years of experience, dedicated attitude, mastery of the art of screen printing, friendly customer service, great inks, and a top of the line shirt printing press. All of this and more helps us to achieve a high standard in screen printing quality on our client's custom T-shirt orders. Below is an overview of some of the apparel printing techniques we do here at Spectrum Apparel Printing.
Plastisol Ink
This ink is the most commonly used ink in the industry. Plastisol ink sits on top of the fabric , giving the image a superior color saturation and durability. Plastisol has more of a vibrant, slightly glossy look. Unlike water base and discharge which takes on a slightly more matted look.
Waterbase Ink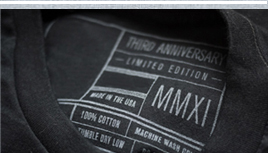 Water based screen printing is the way to achieve a soft print that feels like it is part of the fabric. This type of ink works well printing over seams and prints that go off the edges of the shirt. This ink is recommended on 100% cotton garments that are on the lighter side of the color spectrum such as light blue, light green, white, light grays, etc.
Discharge Ink
Discharge ink is water based ink with the addition of a special activator added into the ink, so as to remove the dye from the fabric. Discharge works best on natural fabrics such as 100% cotton. Discharge can be used on both light and dark garments, but is more specifically used for dark colored garments. The final result of the screen print is a really soft feel on the shirt. Many people consider this a superior print when compared to thicker plastic like screen prints that plastisol ink produces.
Foil Print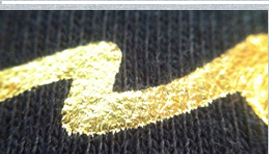 We screen print your design using a plastisol ink adheisive, then we lay down a thin layer or foil. Then we heat press the foil causing it to adheres to the printed areas only. The result is a very, very shinny metallic print. There are a lot of colors and faux styles of foil we can use on your custom shirt order.
Jumbo Print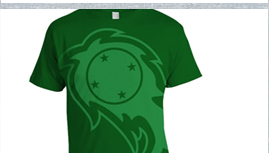 Yeah we can do extra large screen prints, our screen printing press is specially made to do both small prints and extra large prints if you need that design big give us a call/email and let us help you get that design set up to look good. Large screen prints can be done using water base/discharge ink, or plastisol ink, and foil.
Heat Press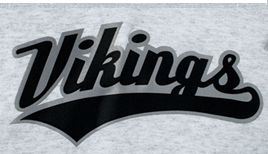 Heat pressing your custom design is a good option when doing names, numbers or simple one or two color images on a small run of shirts (around 11 pieces or under). We use a high quality vinyl material for the printing process. This ensures a long lasting heat press print that is clean and has a nice robust look to it.
Names & Numbers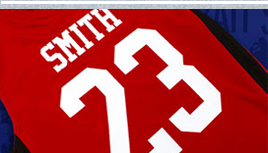 We can also do custom names and numbers using our heat press. We are competitively priced and have fast turnaround times. Pricing per piece depends on how complex the design is, and the overall size the design. Call/email us for prices, turnaround times, colors, etc.
Tag Print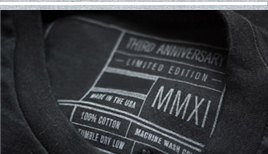 Need a tag print? We can screen print your logo or whatever else you may want inside the garment. Tag prints are nice because they give that extra 'big time' feel for clothing lines. They also allow your clients to find you by just looking in the shirt. Screen printed tag prints are limited to one color.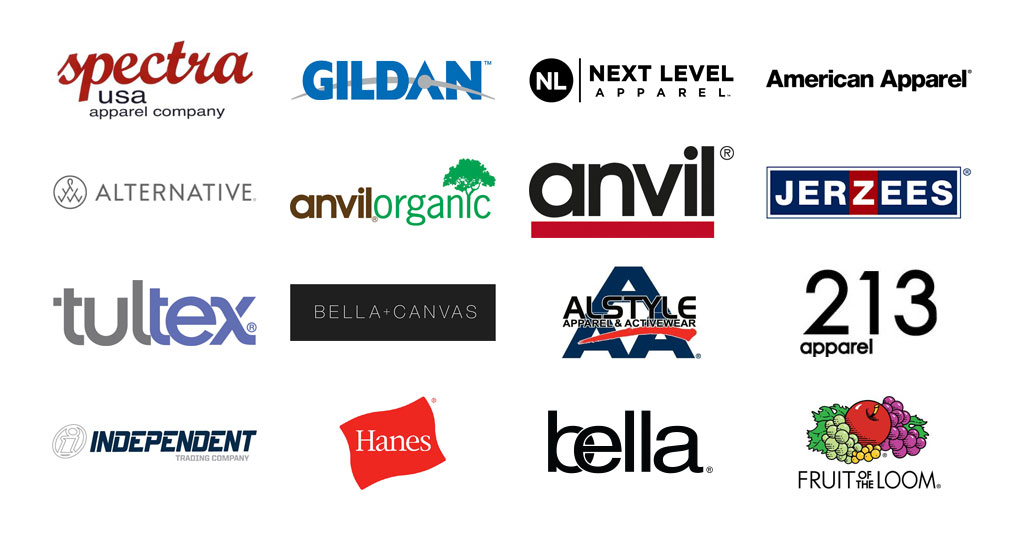 Here are some of the folks we roll with.

ASTRA is a Bay Area brand we've been working closely with throughout their growth as a high street label. Their designs are minimal, yet provocative making each piece tastefully expressive and versatile. Check out all the line has to offer at astra clothing or on Instagram @astraclothing.

In sum, Effulgence is a reminder to never feel guilty of wanting more out of life and constantly striving to reach a new state of brilliance.